Kiran Rubber Industries has been a key manufacturer & exporter of Rubber Sheets, Rubber Expansion Bellows, Solid Rubber Sheet, Fluorocarbon Rubber, Fluoro Rubber, Fluorocarbon Rubber Products, and Braided Rubber Pipes etc. All its products show a right mix of best grade raw material, thorough manufacturing, latest technologies and craftsmanship. The company offers a quality as well as broad range of product that meets all your basic to advanced needs. Its products such as Rubber Sheets and others are highly appreciated in the industry for their features of lightweight, durability and economy in use. The company has a complete quality assurance policy, ensuring adherence to perfection in consistency and standards. It offers a great level of product quality & services.
Quality
Our ISO 9001:2008 certification empowers us to perform a careful and quality production work that brings excellent results. We ensure thorough work processes, improved quality and productivity. This helps in attaining trust of clients, and a trusted position in the marketplace. All our products including Rubber Sheets, Bellows, Rubber Mats, and Packing Gaskets etc. go through rigorous quality assurance procedures that are based on global standards and latest industry trends. And quality is the core aspect of our system, which shows our commitment of offering superior rubber sheets and other allied products.
Our Manufacturing Expertise

We have built a spacious manufacturing unit, which is spread across a wide area helping us in manufacturing bulk consignment under one roof. The unit is fitted with modern machines that are knwon for its maximum output and excellent performance. The machine comprises:

Moulding press
Rotocure machine
Spreading machine
Kneeder
Mixing mill
Extruders, etc.
These machines are oiled and kept in good working condition to avoid any delay in production process.

Moreover, we import the range like:
Clients
Through sincere efforts, quality oriented work and client focus we have attained a large client-base in both domestic and international market. We meet every requirement of the clients with the best possible solution. We also adhere to the global quality assurance policies and implement valuable suggestions of the clients to bring customer satisfaction to a new level.
Our client list includes:

Reliance Industries Limited (All over India)
Central Railway
BARC
BPCL
Sesa Goa
Appliction Area Our wide range of quality products are applicable to following industries:

Aerospace
Automobiles
Cement
Earth moving equipment
Electronics
Heavy Engineering
Mining
Petrochemicals
Electricity boards
Printing
Packaging
Chemical plants
Steel plants
Shipping & dockyards
Oil rings
Fertilizers
Railways
Company Specifications
Business Type

Exporter, Manufacturer
Export Percentage

50%
No of Staff

50
No of Production Lines

2
Export Markets

Jordan, Dubai, Italy, Germany, UK, North & East Africa, USA and Latin America

Why Choose Us?
Full fledged manufacturing unit
Established itself in the national & international market
Fully equipped laboratory facilities
Team of experienced personnel
Product Range
Rubber Sheets
Butyl Rubber Sheets
NBR Rubber Sheets
EPDM Rubber Sheets
Fluorocarbon Rubber Sheets
Conductive Rubber Sheets
Silicone Rubber Sheets
Neoprene Rubber Sheets
Shot Blasting Rubber Sheets
Natural Rubber Sheets
Silicone Solid Rubber Sheet
Rubber Expansion Bellows
Metallic Bellows
Rubber Bellows
Fabric Bellows
Non Metallic Bellows
Moulded Rubber Bellows


Silicone Rubber Products
Transparent Silicone Tubing
Temperature Rubber Products
Special High Grade Silicone
Silicon Products
Extruded and Moulded Rubber Items
Braided Silicone Tubing
Silicone Sponge Gaskets and Strips
Silicone Tubing,
Coated Fabrics
Diaphragms
Elastomer Coated Fabrics
Safety Equipments & Products
Chequered
Electrical Insulated Rubber Matting
Speed Breakers
Electrical Rubber Matting
Moulding Products
Custom Rubber Products
Molded Diaphragms
Rubber Gaskets and Bushes


Extruding Products
Braided Rubber Pipes
Extruded Profiles
Expansion Joint Profiles
Non Braided Rubber Pipes
Profiles of Window Seals


Rubber Gaskets & Rings
O-Rings
Packing Gaskets
Metal Rollers


Rubber & Rubber Products
Hypalon Rubber Sheets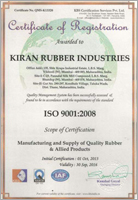 Contact Us
135, Shiv Krupa Industrial Estate, L.B.S Road, Opp. Raj Legacy, Vikhroli (W), Mumbai, Maharashtra, 400083, India
Phone :+918037303425