Kiran Rubber Industries has been a key manufacturer & exporter of Rubber Sheets, Rubber Expansion Bellows, Solid Rubber Sheet,
Fluorocarbon Rubber, Fluoro Rubber, Fluorocarbon Rubber Products, and Braided Rubber Pipes etc. All its products show a right mix of best grade raw material, thorough manufacturing, latest technologies and craftsmanship. The company offers a quality as well as broad range of product that meets all your basic to advanced needs. Its products such as Rubber Sheets and others are highly appreciated in the industry for their features of lightweight, durability and economy in use. The company has a complete quality assurance policy, ensuring adherence to perfection in consistency and standards. It offers a great level of product quality & services.
Company Specifications
Business Type

Exporter, Manufacturer
Export Percentage

50%
No of Staff

50
No of Production Lines

2
Export Markets

Jordan, Dubai, Italy, Germany, UK, North & East Africa, USA and Latin America

Why Choose Us?
Full fledged manufacturing unit
Established itself in the national & international market
Fully equipped laboratory facilities
Team of experienced personnel
Product Range
Rubber Sheets
Butyl Rubber Sheets
NBR Rubber Sheets
EPDM Rubber Sheets
Fluorocarbon Rubber Sheets
Conductive Rubber Sheets
Silicone Rubber Sheets
Neoprene Rubber Sheets
Shot Blasting Rubber Sheets
Natural Rubber Sheets
Silicone Solid Rubber Sheet
Rubber Expansion Bellows
Metallic Bellows
Rubber Bellows
Fabric Bellows
Non Metallic Bellows
Moulded Rubber Bellows


Silicone Rubber Products
Transparent Silicone Tubing
Temperature Rubber Products
Special High Grade Silicone
Silicon Products
Extruded and Moulded Rubber Items
Braided Silicone Tubing
Silicone Sponge Gaskets and Strips
Silicone Tubing,
Coated Fabrics
Diaphragms
Elastomer Coated Fabrics
Safety Equipments & Products
Chequered
Electrical Insulated Rubber Matting
Speed Breakers
Electrical Rubber Matting
Moulding Products
Custom Rubber Products
Molded Diaphragms
Rubber Gaskets and Bushes


Extruding Products
Braided Rubber Pipes
Extruded Profiles
Expansion Joint Profiles
Non Braided Rubber Pipes
Profiles of Window Seals


Rubber Gaskets & Rings
O-Rings
Packing Gaskets
Metal Rollers


Rubber & Rubber Products
Hypalon Rubber Sheets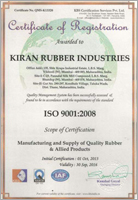 Contact Us
135, Shiv Krupa Industrial Estate, L.B.S Road, Opp. Raj Legacy, Vikhroli (W), Mumbai, Maharashtra, 400083, India
Phone :+918037303425